About HANGZHOU ADVANCE
Hangzhou Advance Gearbox Group Co., Ltd. (Hangzhou Gearbox Works  P.R.China) was founded in 1960. It has grown to be the largest professional manufacturer of transmissions in the Asia. The company is situated at the south bank of Qiantang River, covering an area of 520,000 m2, staffing around 3000 employees, of whom over 800 are professional technicians.
The company has 10 factories, 3 joint ventures and 6 domestic or oversea business firms, two institutes (Hangzhou Marine Gearbox Institute and Hangzhou Powder Metallurgic Institute at Ministry level).
Since the 1980's, Hangzhou Advance Gearbox Group Co., Ltd. invested huge amounts of money successively to carry out technological development, product improvement and implementation of advanced CNC operated equipment, manufactured in USA, Germany, Austria, France, Switzerland, Italy and Japan.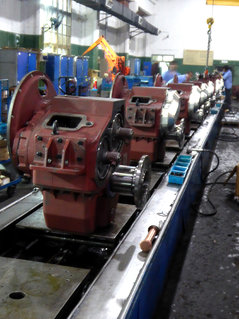 Hangzhou Advance Gearbox Group Co., Ltd. is dedicated to constantly improve her product designs and improvement of Quality Control and Quality Assurance.
In 1993, the company passed the ISO9000 certification and was evaluated as national qualified enterprise of perfect testing system in 1996. In 2002, it passed certification ISO9001-2000 and the ADVANCE brand trademark has been evaluated as Most Famous Brand of Zhejiang.
Mission
It is the mission of Hangzhou Advance Gearbox Group Co., Ltd. to continuously developing new and improved products, satisfying our customers needs and being recognized as market leading manufacturing company  of gearboxes.